A year ago, the Howe ISD changed from a handbook system that allowed for each campus to have their own policies to a blanket Howe ISD policy handbook with three sections to set each campuses differences.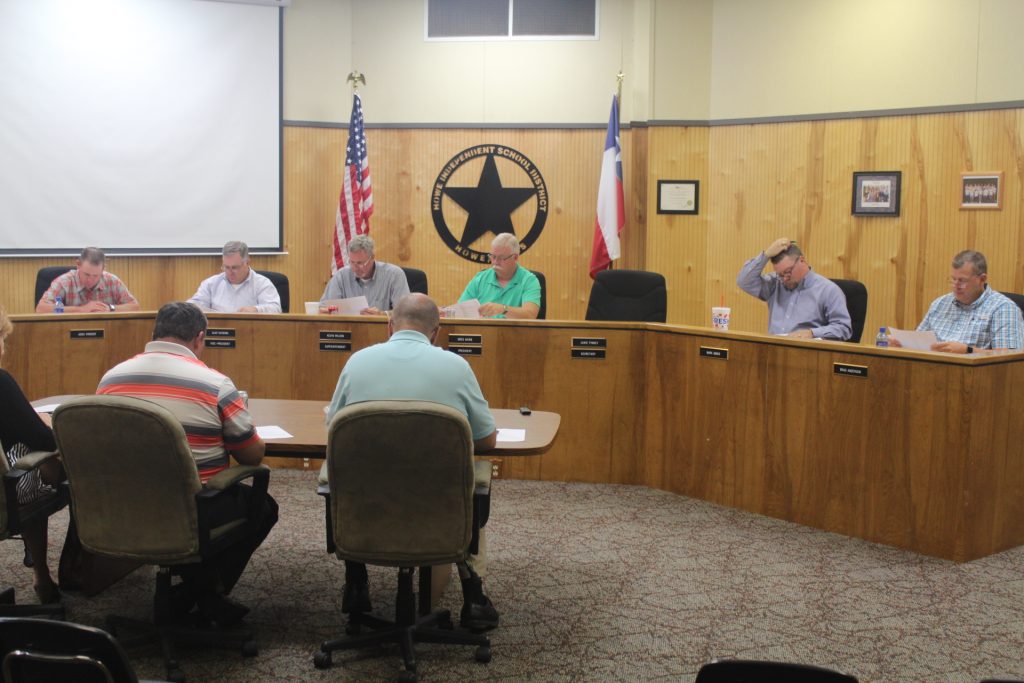 Howe Middle School Principal Clay Wilson announced to the school board last Monday night that the overall Howe ISD handbook revisions for the 2018-19 school year include a change in the cafeteria charge limit to $15 at the elementary school and $10 at the middle and high school campuses.
There is also a lengthy revision to bullying. In accordance to David's Law which was passed a year ago under Texas Senate Bill 179.
Under David's Law, Texas public schools will have the authority to address cyber-bullying that occurs off-campus. Schools will be required to notify a bullying victim's parents of a bullying incident within three business days after the incident is reported and must notify the parents of an aggressor within a reasonable amount of time. School procedures for reporting bullying incidents must include anonymous reporting for students. Schools will be able to expel students who engage in very serious bullying. This includes bullying that (i) encourages another student to commit suicide (i.e., suicide baiting), (ii) incites violence against another student, or (iii) involves releasing indecent photos of another student. Strong protections from civil or criminal liabilities will be given to schools and school personnel who report criminal bullying to law enforcement officials. There will be new provisions in the law to promote mental health education, including education about the effects of grief and trauma on a student's mental health and learning. The role of school counselors will be expanded to include mediating interpersonal conflicts among students, including accusations of bullying.
Clay Wilson also noted the middle school handbook revisions which reflected the cafeteria charge changes and discipline issues.
"Our biggest issue last year was that we saw an increase in kids not doing work. One thing that we're looking at this year is to find ways to get kids engaged and finding ways to motivate kids to do their work," said Clay Wilson. "There are too many kids who are content with grades in the 60s and 50s and they're okay with doing summer school. What we're trying to do is to create higher expectations for themselves."
With the revisions, students that consistently fail to turn in work may be subject to disciplinary action.
"We don't just start out putting kids in ISS (In School Suspension)," said Wilson. "We will talk to kids, we will talk to parents. We assign lunch detentions, after school detentions, ISS. We work them through a scale and there's communication with the parents along with way. But we're getting more and more kids like that."
Another item that has been revised is that students are required to be eligible for cheerleading tryouts during the week of tryouts.
The middle has removed the Pride Program and are looking at replacing it with something similar but perhaps with more motivation to kids that felt they were eliminated from the program early on.
Also added to the middle school handbook is verbiage that states that students that have unfinished assignments will not be eligible to attend the school dance.
"Our goal this year is to have students have higher expectations for themselves," said Wilson. "I sent home a letter last week talking to their parents about 'you wouldn't want a plumber or an electrician doing a job that's 50 percent. You want someone who's going to do the full job. And that's what we've got to get our kids to do because it impacts them on an academic level.'"
At the elementary school, the bell schedule has been changed to accommodate breakfast times, therefore, they have backed up the time by five minutes.
A big change is to restrict parents from walking their kids into the building without checking in at the office. This will go in to effect after the first week of school.
"We just see that as a safety effort," said Howe Elementary School Principal Charissia Doty. "When the doors are open, the parents just come in and we don't know whether they're going to a bathroom or where they go."
Another change being made is disallowing email to be the form of communication for student pick-up changes or general information. Parents will now have to call the office in order to make changes.
Students will now be sent home if their temperature is at 99.9 degrees or more in accordance to the information provided to the nurse.
The elementary school is also reversing the big trip to the Allen Extravaganza to make it for students with exceptional attendance instead of exceptional behavior. The exceptional behavior reward will be held at the school.