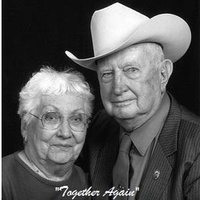 Mary Lillian Swaney was born Friday, February 3, 1922, in the small community of Celtic, between Howe and Tom Bean, the only child of Howard F. Swaney and Bessie (Hopper) Swaney. She passed from this life on Friday, February 16, 2018, at Mullican Care Center in Savoy, Texas at the age of 96.
Mary attended Celtic Schools until they consolidated with Howe and Tom Bean in 1936, and would then attend Howe Schools. She married her sweetheart and lifelong companion, Glyn David Hestand of Luella, on June 17, 1939. He precedes her in death on November 27, 2009. They were married 70 years and loved spending time together and traveling. She was employed at Pools Manufacturing for many years and later worked for Texas Instruments, retiring in 1980.
Mary was a member of the First Baptist Church of Howe. She was Primary Superintendent for 25 years, choir member, assistant Sunday School teacher for the Hannah class and worker in the nursery. She loved tending her "Little Lambs". While attending the Luella Church, she worked with young people and was involved in the music ministry. Mary loved singing, laughing, and had a great sense of humor.
She is survived by her sons, David Hestand and wife Shelly of Ogden, UT, and Jerry Hestand and wife Tammy of Howe; 10 grandchildren, 18 great-grandchildren, and two great-great-grandchildren.
The family will receive friends on Wednesday, Feb. 21, from 6-8 PM at Waldo Funeral Home in Sherman.
Funeral services will be held at 1:00 PM on Thursday, Feb. 22, at Waldo Funeral Home chapel in Sherman with Pastor Bobby Hawkins officiating. Interment will follow at Akers Cemetery with Dalton Hestand, Danny Hestand, Jerry Hestand and Jeremy Hestand serving as pallbearers.
The online register book may be signed at www.waldofuneralhome.com.