From the archives of the Howe Enterprise.  Originally published in the Memorial Day publication of Monday, May 26, 2014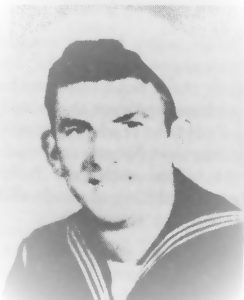 Tony Weber Brinkley entered the US Navy as a 16-year-old Howe High School graduate in December of 1942. He wanted to serve his country that was deep in the midst of World War II. Sixteen months later, he lost his life in the Southwest Pacific.
Brinkley, a Howe native, was born to Joe and Lillie Brinkley. He was a star football player that lettered four years for the Bulldogs and led them to a district championship and bi-district playoff tie as their quarterback and "coach."  Because of the war, Howe had no head coach, so the team coached themselves and Brinkley called the plays and helped structure the practices.
Brinkley was an aviation machinist's mate, third class and was the first Howe High School graduate to be lost during World War II.
His father had passed away before he entered the Navy, therefore, his widowed mother received the news on a Thursday afternoon that Brinkley had died in the service of his country and his remains were buried in allied territory, outside of continental limits. The message requested that no information on names or location be given. It was later publicized that Brinkley was killed on Bougainville Island.
Lt. Stuart Dyckman, USNR, of Dallas told the story about the casualty of Brinkley.
Dyckman said in 1944: "Tony was an aviation metalsmith. It was his job to help repair the fuselages of our fighter and bomber planes when they returned from battling the Japs from the air. The job was a grind. The planes were coming in and going out all the time. Tony worked and worked fast from 12 to 14 hours a day. The pace of the job would have been enough, but the Japs on the island got the range of the airfield and were dropping shells on it trying to wreck the installations.
Sometimes the shells hit pretty close, but Tony kept at his job. He knew how important it was that those planes stay airworthy, Tony might have been able to get away for a little rest, but he elected to stay on the job he was doing magnificently. The shells had been exploding all around our airfield for 10 or 15 days when Tony finally got it. But his death did not go unavenged. The same planes that Tony had helped put back in the air had blasted those Jap guns. Tony was just a boy, but he was doing a man's job."
Finally, in July of 1948, Brinkley was given a military reburial. The dedication was held at First Baptist Church in Howe (where Skinner Plumbing Supply now sits at 200 S. Denny St.). The Rev. Lowell Brinkley, chaplain of the Hughes-Brinkley Legion Post of Howe officiated. He was formally buried at Hall Cemetery in Howe.
Brinkley was a classmate, teammate and fellow World War II veteran with L.B. Kirby who is Howe's own most decorated living veteran in the state of Texas, with seven Bronze Stars, two Bronze Arrowheads and a Purple Heart, awarded for his service in the army during World War II.
.Kirby often gets teary-eyed when discussing his friend Tony Brinkley.
"What I remember most about Tony is that he was a leader. He would always step to the front." Kirby said in an interview in 2014. "He was good at calling the plays. We won. Tony was an exception. He very seldom ever mentioned what he did, whether football or any sport."
Kirby would have liked to have been with Brinkley during the war but recalls that the officers wouldn't let friends be together under any circumstances. "I never got to see him or talk to him or anything. I don't know why, but they didn't like old friends to talk to each other. I never understood that. What would it have hurt? Combat or not, it didn't make a lot of a difference." said Kirby.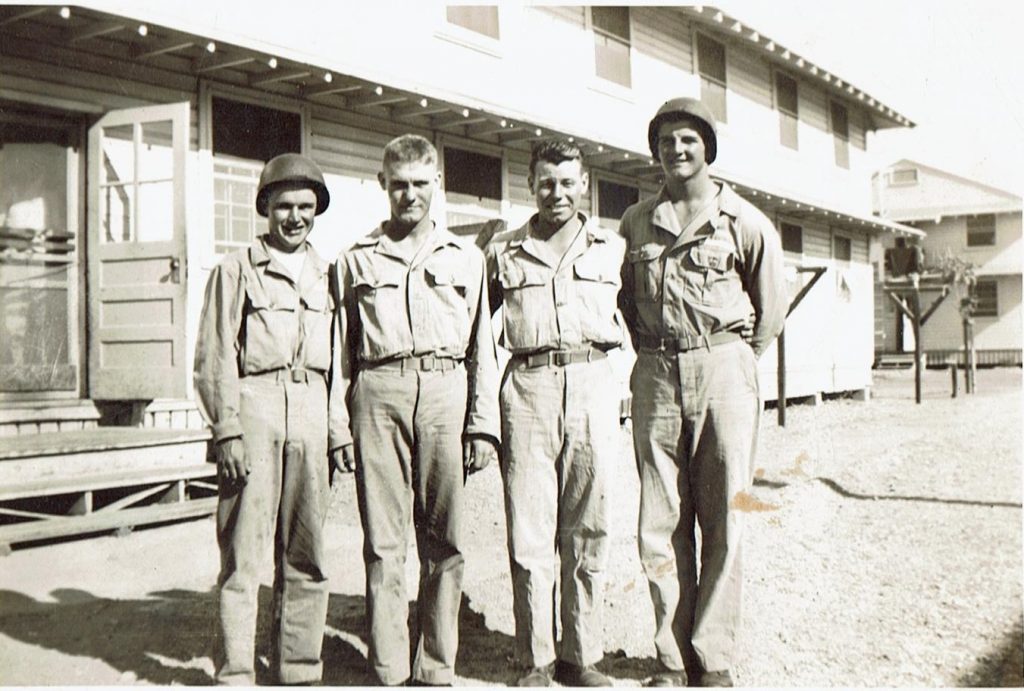 Kirby talked about the job that Brinkley had to do off of the coast of Bougainville Island. "They did a lot of repairs from the ships. I never saw how they landed on those ships. I still don't know how, but they did every time. They'd repair them and back up they'd go." said Kirby. "I was on a land operation. He was in the Navy and I was in the Army. I wish we'd have been able to stay together." Kirby figured that if the officers wouldn't let them communicate, it was because if one would have been shot, the other friend would have been there to try and rescue him and ended up with two casualties instead of one.
Kirby remembers that he would get really upset when he came back and people were laughing at some of the war veterans that came home after the war.
"People didn't understand what we were doing over there. One man asked me, 'how was the hunting'? I said, 'there was no hunting. We killed people and they tried to kill us.' They didn't really realize what combat really was. I didn't even realize what it was. But it doesn't take you all day to learn. War is a dangerous thing. War is a business of killing people and being killed. We understood that there were going to be people that were going to be trying to kill us. That's what our job was, killing people. It's a dirty business."
Tony Brinkley is a name that most Howe citizens don't recognize. However, the sacrifice he made for his country is enormous and the leader that he was should be an inspiration to all of this community.
He was only a kid.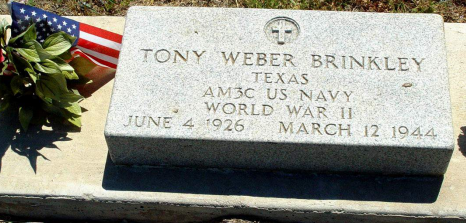 Tony Brinkley was inducted into the first class of the Howe Hall of Honor in April of 2015.