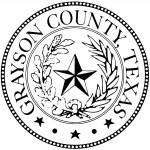 In a release from Grayson County Commissioner Jeff Whitmire, he states that Ponderosa Road will begin resurfacing immediately.  With a cooperative agreement between the City of Howe, Howe ISD, and Grayson County, Ponderosa Road in front of Howe High School is set to be rebuilt. The work zone is between the State Highway 5 right of way on the west and the railroad right of way on the east.
Beginning Monday morning Grayson County will be grinding up the existing surface, reconditioning the sub-base and adding six inches of new limestone base rock. The road will be closed between 8 am and 5 pm on Monday and Tuesday. There will also be some additional closures on Wednesday and Thursday as the county brings in approximately 60 truckloads of rock. Plan now for alternate routes via Shepherd to the north or FM 902 to the south.
The road will be open each night, but use caution and expect loose rock.
While the road is closed, accommodations will be made for those who need access to the ag barns. They should approach through the north exit of the school parking lot and then travel down the shoulder. No other traffic will be allowed from the school parking lot.
Over the next several weeks Grayson County will be working on compaction and shaping of the road.  Expect that the road will be a rock surface until mid-September.