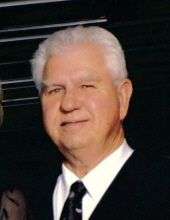 William Levi Smith of Howe Texas passed peacefully in his sleep on May 11, 2018, at the Stone Brook Memory Care facility in Denison.
Bill was born on September 24, 1942, in Wynnewood Oklahoma to Elmer Columbus and Virdie O'Dell Smith. He grew up in Davis Oklahoma and graduated from Davis High school in 1961. On December 22, 1963, he married the love of his life Bonnie Jean Pletcher of Davis Oklahoma. After they married, Bill and Bonnie moved to Dallas where Bill worked for Texas Instruments as an Engineering Technician for 33 years. While in Dallas Bill and Bonnie became active in their community and church and began their family; Bill enjoyed spending time coaching and mentoring his son Chad, and other local boys. In 1977 Bill and Bonnie moved their family to Howe Texas where Bill owned and operated the Howe Mini Storage and ran a small cattle farm. He was always focused on the Lord and served in many ways at church over the years and witnessing to countless friends and acquaintances. He was preceded in death by his parents Elmer and Virdie Smith as well as his brother Benny Bryon Smith and sister Shirley Ann Codding.
He is survived by his wife of 54 years, Bonnie Jean Pletcher Smith; son and daughter in law Chad and Esther Smith of Brownwood TX, his son in law and daughter Thomas and Andra Troxtell of Howe TX. Grandchildren Mike and Beth Rizkal of McKinney TX, Levi and Shaneigh Smith of Beaumont TX, Matthew Smith of Denton TX, Reagan, Riley and Gage Troxtell of Howe TX, Joshua and Jacob Durham of Powell TN and Justin and Chase Cox of Cotton Valley LA. His mother-in-law Iva Nell Pletcher and many other nieces, nephews and extended family members.
Funeral services will be held at 10:30 AM on Wednesday, May 16, 2018, at the First Baptist Church in Howe Texas. Graveside services and interment will follow in Hall Cemetery in Howe Texas. Family visitation will be held Tuesday evening from 6-8 pm at Scoggins Funeral Home in Van Alstyne. Pallbearers will be his grandsons Levi and Matthew Smith, Gage Troxtell, Jacob Durham, and Justin and Chase Cox; dear friends Dalton and Quinton Harris and Mike Garner. Honorary Pallbearers are Jim Huckaby, Randy Moore, Alton Norman, Hoot Rodgers, Dick Smithwick, Freddie Vestal and Darrel Walker. The family would like to give thanks to the staffs of TMC, Carrus, Stone Brook and Hospice Plus for their incredible care of Bill in his last weeks.
In lieu of flowers, the family asks for donations to be sent to the First Baptist Church in Howe in Bills' memory or a charity of the donor's choice.