Some of the area's best basketball players will suit up one last time in their team's colors and uniforms to play in the 2nd Annual Texoma All-Star Game.  Of the 20 players rostered is Howe senior Ty Harvey who will be on the home team coached by Ector's Blake Turner.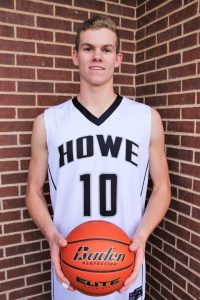 The game will take place in Anna on May 12 at 6:30 pm following a 3-point competition and dunk contest.  Awards will be given for each competition and at least one $500 scholarship will be awarded to the MVP thanks to GCEC.
The all-star game is formatted similarly to the NBA All-Star games of the 1990s as teams will wear their home or away jerseys.
In last year's first event about 500 people were in attendance including high school and college coaches.
Rosters:
Away team
Noah Boling, Van Alstyne
Cooper Smith, Collinsville
Hayden Hollin, Celina
Josh Wood, Melissa
Coleman McCraw, Sam Rayburn
Ryan Mussett, Sam Rayburn
Rayvon Hester, Sherman
Tyler Scott, Gunter
Blakeston Jones, Tom Bean
Byron Bolin, Leonard
Coach Jerod Bingham, Sam Rayburn
Home
Marlen Williams, Texoma Christian
Deviarre Patterson, Ector
Iziah Epps, Bonham
Dylan Pitt, Whitewright
Ty Harvey, Howe
Colby Meek, Bells
Dontre Flowers, Denison
Mykel Anderson, Denison
Ethan Snider, Pottsboro
Javier Rivera, Tioga
Coach Blake Tuner, Ector