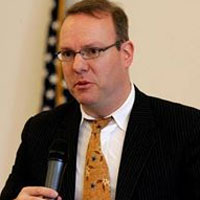 The Texoma Patriots are meeting Monday at 7 pm at Buck Snort BBQ in Downtown Van Alstyne. The speaker is the founder of Free Market Warrior, Loren Spivack.
In Spivack's talk on "Is Capitalism Pro-Life?," he will discuss the benefits of Limited Government and Free Market Capitalism.
Spivack founded the "Free Market Warrior" in 2009 in an effort to make a positive difference in American politics and economics. He is the author of "The New Democrat," a parody history of the Obama administration. It transforms the political personalities of our times into cartoon characters in a conservative morality play. His 2nd book "The Gorax" is a parody starring Al Gore. He also teaches study groups on classical economic theory.
The Texoma Patriots area asking you to come early and enjoy Jim Smith's tasty barbecue buffet which will be open at 5 pm. On meeting nights he gives the Patriots a special price – it includes the buffet, a drink, and dessert. Of course, chocolate chip cookies are a "must."
Their second meeting this month will be Tuesday, March 27 at 7 p.m. again at Buck Snort BBQ.
They will show the film "In Search of Liberty," a patriotic film that combines humor with history to educate viewers of all ages on the Constitution in a visual, straightforward, fun, and empowering way. Check out the trailer at https://youtu.be/qPezdZJfXVY.
A statesman from America's past shows a modern-day family how to protect the future. It's entertaining as well as profound. Come and learn a little more about our US Constitution and the Bill of Rights.
LOCAL ELECTIONS for your town's – mayor, city council, school board will be held May 5th. The last day to register to vote in this election is April 5th. Early voting starts April 23rd Early voting ends May 1st