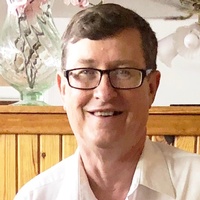 Roger Palmer, 60, publisher of the Whitewright Sun and the Pottsboro Sun passed away unexpectedly on Saturday, June 9 after a brief illness at Wilson N. Jones Hospital in Sherman. He was a career newspaperman starting as a district manager while in college. Finding that he enjoyed the work, he continued on and climbed the corporate ladder serving as circulation manager and consultant at daily newspapers and finally owning his own weekly newspapers. He worked in Arizona, California, Ohio, South Dakota, New Mexico, Arkansas and multiple places in Texas. He and his wife, Kimberly, owned and operated the Whitewright Sun for almost ten years and the Pottsboro Sun for five years.
He was born in Guymon, Oklahoma on September 16, 1957, to parents H.G. and Mary Elnora Palmer. After his birth, his parents moved to Coolidge, Arizona where he graduated high school. He married his wife, Kimberly Hubbard, in 1995 and they had one daughter. Caitlin was Roger's pride and joy. He was a member of Fairview Baptist Church and enjoyed many hobbies including being a jack of all trades and unafraid to learn how to fix anything. He and his wife were continually spending their free time in restoring a loft and chose to live above the business to speed renovations but there was never enough time to get it all done. He also had a love of western art and traveling in western states camping at state and national parks. At one time he had planned to be a landscape photographer and enjoyed photography from a young age. He started with his mother's Brownie and moved into having his own darkroom. Once the digital age came along he always compared what used to be done and how easy things had become. He won numerous awards for his news writing, advertising, and photography.
He was preceded in death by his parents and sister, Sheryl Goodman. He is survived by his wife Kimberly; Daughter Caitlin; and Father and Mother-in-law Kary and Sue Hubbard, Sister-in-law Karen (and Keith) Lody, Brother-in-law Steven (and Melissa) Hubbard and numerous nieces and nephews.
A Memorial Service will be held on Friday, June 15 at 1:00 p.m. at Fairview Baptist Church, 222 West Taylor Street in Sherman. Memorials may be made to the American Heart Association, donatenow.heart.org or to the charity of your choice.