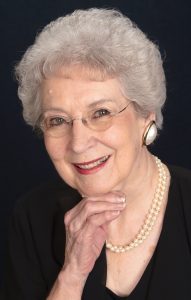 Gracie Nelda Carroll, age 82 of Howe, Texas passed away at her home surrounded by a family who loves her deeply on Monday, March 26, 2018.  Funeral services are under the direction of Dannel Funeral Home.
Nelda was born on March 27, 1935 in Nevada County Arkansas.  She grew up in Hope Arkansas.  After graduation from Hope High School in 1954, she moved to Dallas, Texas where she was employed by Bell Telephone Company and met TC Carroll.   TC and Nelda were married February 25, 1956.  She moved to Howe, Texas with her family in July 1968.
Nelda devoted the years of married life to her dear husband, precious children, grandchildren, and great-grandchildren.  She loved them more than anything and was a beautiful example of living a godly life.  Nelda accepted the Lord Jesus Christ as her Lord and Savior at age twelve.  Her life, expressed in her own words, is this: "Living for Christ has given meaning, purpose, and joy to my life and great hope for the future.  Knowing, one day, as I depart this earthly life I shall see Christ face to face and forever I shall be there to await my loved ones."
In addition to caring for her family as a wife of a Pastor, Nelda was active in church as a Sunday School Teacher and was involved in Children's Ministry at church and Bible Study Fellowship (BSF).  She attended BSF ladies Bible Study classes for six years.
Nelda is survived by her husband of 62 years, TC Carroll, sons: Tony Carroll and wife Susan, Shawn Carroll and wife Sharon, daughter: Dana Carroll Orr and husband Bob.  Grandchildren: Ashley Carroll McCloud and husband Michael, Tyler Carroll and wife Julianne, Kalen Orr, Charis Orr, Sloane Carroll, Stratton Carroll, Sisters: Sara Butterworth and husband Walt, Marguerite Downs, brother Lindol Ellis and many nieces and nephews.
Nelda is preceded in death by her parents, Charles and Ruth Ellis, brother James Ellis and sister, Pansy Mandeville.
The family will greet friends at Dannel Funeral Home from 6:00 – 8:00 pm on Thursday, March 29th.  Funeral Services will begin Friday at 11:00 AM at First Baptist Church in Howe, Texas.  Nelda's nephew, Rick Rothwell will officiate with her brother-in-law, Bobby Carroll.  Pallbearers are Tyler Carroll, Kalen Orr, Stratton Carroll, Michael McCleod, Gregg Downs, Andy Downs, David Carroll, Brad Stephens, Chad Stephens, Weldon Day and Ronnie Ellis
You may sign the online guestbook at www.Dannelfuneralhome.com.