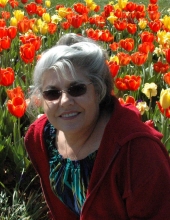 Margo T. Huffman Estep was born February 14, 1947 in Menominee, MI to Ann Huffman and the late James Huffman. She is a graduate of Menominee High School and attended beauty school in Green Bay, WI. She left this earthly world to be with her heavenly father after battling nearly four years of stage 4 colon cancer. She was a resident of Melissa, TX at the time of her passing.
Margo met Bill Estep in 1971. She was in a bowling league at the local bowling alley when Bill, who was on a business trip, happen to walk in. As their eyes met across the room, she would always say, "It was love at first sight." She married the love of her life, on February 26, 1972 in Jackson, MS and enjoyed 46 years of marital bliss. She became an instant mom to her step-son Michael D. Estep, and shortly after, she and Bill had one daughter, Candace Michelle Estep Simmons. During this time she owned her own beauty shop in Jackson, MS and the family enjoyed horse showing. In 1975, the family moved to Howe, TX and became business owners to a small welding supply company. Together they built their business from one declining location to three companies with a total of five locations, Industrial Welding Products in Sherman, TX, Atoka, OK and Madill OK, Grand Oxygen in Paris, TX and Wichita Welders Supply in Wichita Falls, TX. Together they worked and built the companies into prosperous businesses and sold to Airgas, Inc. in 1995. Shortly after the sale, they began traveling the US with "Ig" in their motor coach, traveling about six months each year for the next 20 years. Along these journeys, they met many friends and shared fond memories. She became a Maw Maw, in 1991, to Devin "Gator" Lynn Hargrove. And in 2016, she became a Great Maw Maw to Easton Lane "Scooter" Hargrove.
Margo was an active member of First Melissa Church in Melissa, TX. She enjoyed participating in activities with her Sunday School Class and helped start the Hope Cancer Comfort Ministry group. She also helped with the Melissa Food Pantry until her health declined. In her spare time, she enjoyed making jewelry; her specialty was beading bracelets. Her jewelry was spectacular, but she rarely sold pieces. She would make a necklace or a bracelet and then give to people, friends, family, and anyone who made an impact on her. It was her way of saying thank you to those she loved.
Margo was known as a loving, caring, nurturing, friendly, Christian woman with a sense of style and known for her beautiful unique hair. She was known for the best potato salad, dill pickles, and homemade ice cream. She enjoyed being outdoors and working in her flower beds and vegetable garden. She enjoyed traveling throughout the years, but one of her favorite things was spending time with her family and especially her grandson and great-grandson.
Margo is survived by her husband, Bill Estep of Melissa, TX; step-son, Michael Estep of Austin, TX; daughter, Candace Simmons and husband Jeff of Melissa, TX; mother, Anne Huffman of Menominee, MI; sisters, Judy Semrau and Gloria Huffman both of Menominee, MI; brother, John Huffman and wife Mary of Menominee, MI; grandson, Devin Hargrove and wife Brittany of Sherman, TX; great-grandson Easton Hargrove; several nieces, nephews and cousins. She is preceded in death by father, James Huffman and brother-in-law Gene Semrau.
Margo's legacy will live on in the hearts and minds of everyone she interacted with as well as those she reached but never met. Help her kindness, loyalty and compassion continue by making a donation to or volunteering at the Scottish Rite Children's Hospital in Dallas, TX.
Funeral services will be held at 10:00 AM Saturday, September 15, 2018 at the First Melissa Church, in Melissa, TX; with Pastor Trey Graham, officiating. Interment will follow at Akers Cemetery, in Sherman, TX. Al Guin, Jesse Hauptrief, Wayne Jones, Tim Lowe, James Simmons, and Ken Swires, will serve as Pallbearers. The family will receive friends Friday, at Scoggins Funeral Home, from 6:00 PM to 8:00 PM.
Services are under the direction of Scoggins Funeral Home & Crematory, 637 W. Van Alstyne, Pkwy. Van Alstyne, TX; 75495. 903-482-5225.
You may sign the online register book at www.scogginsfuneralhome.com.