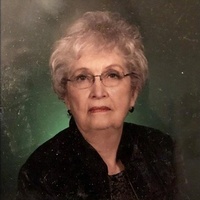 Lee Joy (Cartwright) Smithart, 85, beloved mother, passed away January 24 at Texoma Medical Center.  Lee Joy was born November 08, 1933 in Wapanucka, Oklahoma to Ida and Wm. McKinley Cartwright.
Lee Joy graduated early from high school in 1950 from Wapanucka. While in school she played basketball and worked part time at the local drug store. On December 27, 1952 at the Sherman First Baptist Church, she married Don Smithart, after he returned home from serving in the Army during the Korean war. They were married 29 years when Don died at an early (50) age on May 29, 1982.
During their marriage they lived in Atoka, OK, Burbank, CA, Oklahoma City, OK, Boise, ID, Denison, TX and Howe, TX. Lee Joy had a long career in the banking and accounting field. Working at Grayson County State Bank and then Johnson & Johnson, Inc. where she retired in 1993 after 25 years of service. After retirement she worked part time at the J & J Credit Union and at the Grayson County Courthouse in the County Clerk's office.
She was a deeply religious woman and was a founding member of Harvest Time Assembly of God in Sherman and was still attending faithfully until her health deteriorated. She also served on the Howe City Council and Planning and Zoning Board for several years. She proudly served the community by serving on election days for many years at different polling places in Grayson County.
Lee Joy was the "go to" person for any family history. She knew all dates/days/names. Everyone depended on her for information about the Cartwright and Smithart families. That will be sorely missed.
Lee Joy was proceeded in death by her parents; sisters Shirley Cartwright, Mary Ruth Cartwright, Marguerite Lowry, and Betty Haines. Brothers C. W. Cartwright, J. R. Cartwright, and Odell Cartwright.
She is survived by sister Annette Roark of Ada, Ok, Nelda Joplin and husband Wayne of Ada, OK, and brother Jerry Cartwright and wife Janie of Tushka, OK, daughter Debbie Royston of Howe, sons Randy Smithart and wife Arlene of Irving, Texas, and Tim Smithart of Howe. Grandaughters Kara Royston of Anna, Claudia Smithart of Dallas, and Grandson Donald Smithart and his wife Elizabeth of Greer, SC. Great grandson Charlie Royston-Johnston of Anna, TX and Adalee Teachey of Greer, SC. Also her special 4-legged companion Hannah Belle. In addition she is survived by brother-in-law Clyde Haines of Woodinville, WA and childhood friend and sister by heart Abbey Green Deaton of California.
She was very loved and will be dearly missed.
Graveside services will be held at 1:00 PM on Wednesday, January 30, 2019 at the West Hill Cemetery in Sherman.
The family will receive friends on Tuesday, January 29t from 5:00 PM to 7:00 PM at Waldo Funeral Home. Arrangements are under the direction of Waldo Funeral Home in Sherman.
In lieu of flowers please make a donation to the Texoma Regional Blood Center in Sherman, TX in her name.
The online register book may be signed at www.waldofuneralhome.com