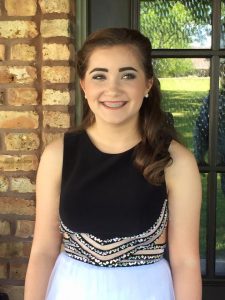 Kindle Catching has been named drum major for the 2017-18 school year.  She is the 30th drum major since the beginning of the Howe ISD band program that started in 1975-76.
Other positions announced:
Band President:  Mikayla Doty
Vice President:  Madison Mosier
Secretary:  Shellby Armstrong
Treasurer:  Bethany Masters
Color Guard Captain:  Taylor Thurman
Color Guard Members:  Ivonne Delgado, Aubrey Friedman, Grace Jones, Valerie Langford, Natalie Murphy, Rebecca Rhew, Natalie Sloan, Erin Tyler
Loading Captain:  Erin Tyler
Other leadership team members and their roles will be announced at a later date.
HHS Drum Major History
| | |
| --- | --- |
| 1975-76 | Jerry Taylor |
| 1976-77 | Terri Straw |
| 1977-78 | Robin Hawkins |
| 1978-79 | Robin Hawkins |
| 1979-80 | Robin Hawkins |
| 1980-81 | Valerie Whitfield |
| 1981-82 | Brent Wood |
| 1982-83 | Lex Breeding |
| 1983-84 | David Whitfield |
| 1984-85 | David Whitfield |
| 1985-86 | Danielle Mailloux |
| 1986-87 | Rodney Holcomb |
| 1987-88 | Paula Mullins |
| 1988-89 | Paula Mullins |
| 1989-90 | Sharla Powell |
| 1990-91 | Sharla Powell |
| 1991-92 | Sharla Powell |
| 1992-93 | Kent Bearden |
| 1993-94 | Carrie Mullins |
| 1994-95 | April Taylor |
| 1995-96 | April Taylor |
| 1996-97 | April Taylor |
| 1997-98 | Mandy Summers |
| 1998-99 | Mandy Summers |
| 1999-00 | Aaron Stringfellow |
| 2000-01 | Aaron Stringfellow |
| 2001-02 | Kyle Lowder |
| 2002-03 | Kyle Lowder |
| 2003-04 | Laura Stringfellow |
| 2004-05 | Andrew Shaffer |
| 2005-06 | Rhapsody Fearon |
| 2006-07 | Erica Wortham |
| 2007-08 | Kayla Cook |
| 2008-09 | Jesse Richard |
| 2009-10 | Jesse Richard |
| 2010-11 | Ashley Krueger |
| 2011-12 | Travis Fulton |
| 2012-13 | Makenzie Duffee |
| 2013-14 | Madeline Ansley |
| 2014-15 | Madeline Ansley |
| 2015-16 | Jessica Doty |
| 2016-17 | Kaylee Dwyer |
| 2017-18 | Kindle Catching |