Howe's Elijah Campbell was the lone member of the Bulldogs to be named to the 10-3A All-District First Team. The senior captain led Howe through a tough stretch in district play. He averaged 12 points per game, 4.4 rebounds per game, 6.4 assists per game, and 2 steals per game.
Campbell's younger sophomore brother Noah Campbell was named as a unanimous 2nd-Team All-District member while teammates Devin Porter and Caiden Harmon were given honorable mention.
The Bulldogs also landed several members on the All-Academic Team which were Elijah Campbell, Logan Elvington, Layton Elvington, Ayden Norton, Jarron Ing, Noah Campbell, Cameron Lankford, and Steven Waldrip.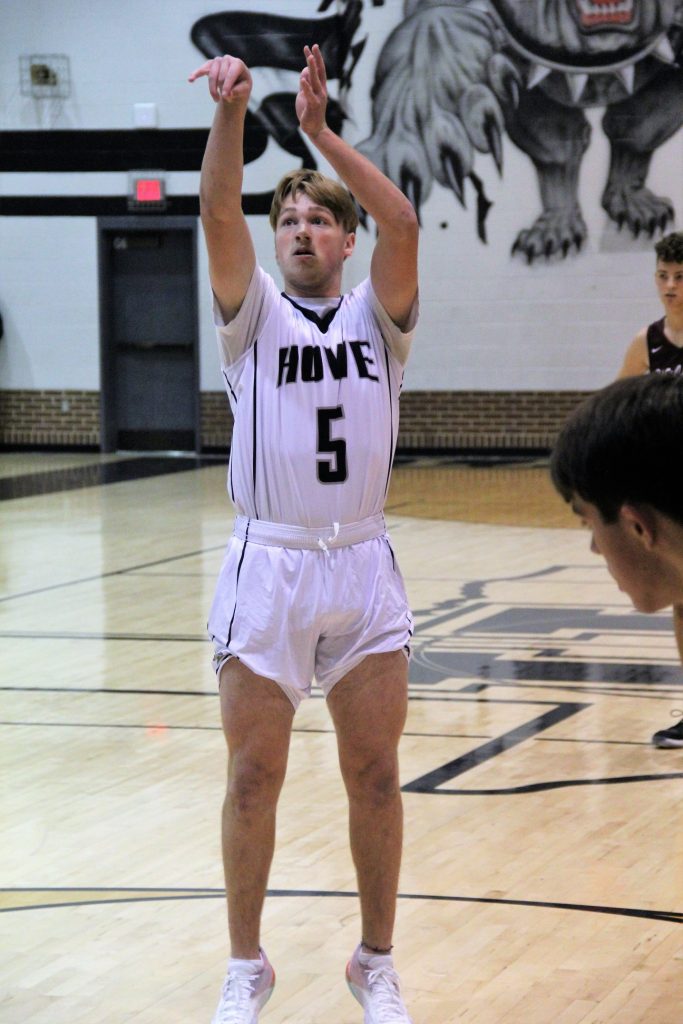 All District Selection Boys Basketball 2017-2018
District 10 Region 2
District MVP Josh Ukpe – Sr. – Bonham
Offensive MVP Samuel Tormos – Jr.- Van Alstyne (Unanimous)
Defensive MVP Seth Lewis – Sr. – Leonard
Sixth Man Award Tanner Reaves – Soph. – Bonham
Newcomer of the Year JJ Boling – Fr. – Van Alstyne
Coaching Staff of the Year Van Alstyne
1st Team All-District
Tyler Sperry – Sr – Van Alstyne – Unanimous
Jordan Meixelsperger – Sr – Whitewright – Unanimous
Seth Jackson – Sr – Whitewright – Unanimous
Jonathan Garza – Fr – Blue Ridge
Tyler Rodriguez – Sr – Bonham
Noah Shellman – Sr – Bonham
Elijah Campbell – Sr – Howe
Jaylen Duncan – Jr – Leonard
DJ Brown – Fresh. – Leonard
2nd Team All-District
Cam Montgomery – Van Alstyne – Unanimous
Utah Porath – Blue Ridge
Brandon Dona – Bonham
Dylan Cordell – Whitewright
Aaron Pitt – Whitewright
Wrangler Priest – Bells
Cire Luster – Bells
Cam Reed – Bonham
Noah Campbell – Howe – Unanimous
Jackson Anderson – Leonard
Jayson Beckett – Van Alstyne
Honorable Mention
Bells: Tyler Hawthorne, Keaton High, Bryan Ponder
Blue Ridge: Caden Phillips, Ross Feagins, Kaden Walker
Bonham: Gaige Cravin
Howe: Devin Porter (SR), Caiden Harmon (JR)
Leonard: Jace Lacook, Daniel Mccain
Van Alstyne: Drelin Davis (JR)
Whitewright: Kylan Watson (JR)
Academic All-District
Bells: Cire Luster, Wrangler Priest, Bryan Ponder, Cade Dogget, Keaton High, Tristan Mallory, Blake Rolen
Blue Ridge: Luke Jenkins, Caleb Jenkins, Jacob Duncan, Caden Phillips, Kaden Walker, Ross Feagins
Bonham: Gaige Cravin, Brandon Dona, Tyler Rodriguez, Brant Stuber and Josh Ukpe
Howe: Elijah Campbell (SR), Logan Elvington (SR), Layton Elvington (JR), Steven Waldrip (JR),Ayden Norton (JR), Jarron Ing (JR), Noah Campbell (So), Cameron Lankford (So.)
Leonard: Dalton Wigley, Mason Rhone, Jackson Anderson, Blake Schur, Jace Lacook, DJ Brown, Jaylen Duncan
Van Alstyne: Jayson Beckett (JR), JJ Boling (Fr.), Drelin Davis (Jr), Garrett Keenan (Jr), Tommy Leutwyler (SR), Cam Montgomery (JR), Teo Orduna (SR), Brock Powers (SR), Tyler Sperry (SR), Samuel Tormos (JR)
Whitewright: Aaron Pitt (So.), Jonisun Comola (SR), Austin Jones (SR), Tim Richey (SR)