On Friday, the Howe Enterprise learned that Howe Police Chief Matt Whitworth had officially turned in his resignation to the City of Howe in order to take the position of police chief-to-be at Howe ISD. He will first serve as the SSD (safety and security director) as there is a process to be approved to have an ISD police force which is a three to six-month process. In the interim through the process period, Whitworth will have that title instead of police chief until the ISD process has been fulfilled.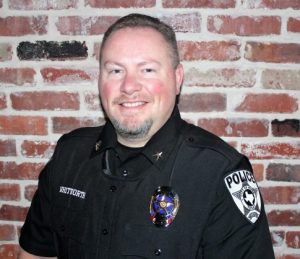 Whitworth, a native of Howe and a 1990 Howe High School graduate became the Howe Police Chief in August of 2017. The position came open in July when former Chief Carl Hudman resigned to take a similar position in Alaska.
Whitworth has been in law enforcement for the past 13 years and worked in corrections with the State of Texas prior to that. He started his career with the City of Howe back in 2005 as a reserve and went full-time shortly thereafter. Since leaving the Howe Police Department, he has been at the Grayson County Sheriff's Office working first in patrol and later in investigations. Whitworth and his wife Lori have three children and seven grandchildren.
Howe ISD Superintendent Kevin Wilson read the following verbiage at Monday's school board meeting which officially initiated the creation of the Howe ISD Police Force.
WHEREAS, School Safety is a primary concern of the Howe Independent School District; and
WHEREAS, the Howe ISD Board of Trustees believe that school safety and service to the school community will be improved; and
WHEREAS, recent acts of school violence have heightened awareness and the need for a law enforcement presence in the Howe Independent School District; and
WHEREAS, Texas State Law allows for the formation of an ISD Police Department,
NOW THEREFORE BE IT RESOLVED that the Howe ISD Board of Trustees shall form the Howe ISD Police Department in accordance with state law and the Texas Education Code, and that the primary jurisdiction of the department will be any property within the Howe ISD boundaries and outside the District's boundaries when the property is owned, leased, or otherwise under the control of the Howe ISD within the state of Texas.
The school board adopted the resolution which was the first step in officially forming the department.
The new chief of police will report to the superintendent.
The board had to amend an item in the current ISD policy which authorizes the officer to carry a weapon on campus.