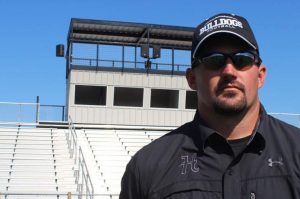 Howe's Athletic Director and Head Football Coach Zack Hudson made the announcement this morning to his players that he will not be returning next fall to lead the Bulldogs.  Instead, he has accepted the position of head football coach at Mabank ISD and will be leading the Class 4A, Division I Panthers.   It is not an athletic director position which will allow him more time with his family during the football off-season.  Hudson will able to build his own football staff.
Hudson came to Howe back in 2013 to be closer to his ill grandfather.  After his grandfather's passing a year ago, Hudson had declined several job offers but the Mabank position stood out as one he couldn't turn down.
Apart from his 30-28 winning record (which was 29-19 heading into 2017), most playoff wins in school history, and turning a football program around that had back-to-back 2-8 seasons, Hudson's long-lasting imprint on Howe may his improvements to the facilities in such a short time that had originally been planned out as a five-year process.  Prior to Hudson's arrival, the Bulldog Stadium field house, restrooms, and press facilities were dilapidated, the softball fields were still across the track, the bleachers were tight at Bulldog Stadium, and the baseball field had make-shift metal dugouts.
"We've accomplished a lot in five years," said Hudson.  "When we had our first big track meet here in years, we were up in the bleachers and we had just finished up the softball fields.  There was softball game going on, a baseball game going, and a track meet going all at the same time and there were people everywhere.  It was packed and I'll never forget that moment."
As far as football achievements, beating Hughes Springs in a bi-district playoff game in Van, Texas stood out to Hudson as one of his most fond memories as the leader of the Howe Bulldogs.
"We've had a lot of good coaches and great players.  It's been a great five years," said Hudson.  "It's hard to point out one thing that sticks because there's so much."
When asked whether he felt the vast improvement from his time here in five years, Hudson said he couldn't answer that question because he wasn't here then.
"I can just comment on what we've been able to accomplish while I've been here," said Hudson.  "With our baseball teams, basketball teams, and softball teams getting in the playoffs, I feel like a lot of things were accomplished here and I feel like Howe stepped up and have risen to a different level now.  And I hope the next guy they hire takes it even higher."
Huson said the hardest part of leaving Howe is departing from the administration and friends and says that he couldn't ask more from Superintendent Kevin Wilson and what Howe ISD has provided in support.
Hudson will take over a Mabank team that went 1-9 a year ago and haven't had a winning record since 2006 when they went 6-5.  Bud Hudson says he's just the guy to revamp a program just as he did in Howe.
"My personality is usually one that fits better when people need a restructure and I think that's why Mabank was attracted to me," said Hudson.  "I don't know if I feel comfortable taking over a program where they've been winning and winning and I just have to keep it going.  I've never done that before.  I like doing things that people say can't be done.  If you tell me I can't do something or I don't have a chance, well I'm going to try and prove you wrong."
Hudson is excited about the fact that Mabank has turf and he will not have to stripe a football field again.  However, those who know Hudson realize that he will more than likely miss the area of sports horticulture.
On his way out the door, Hudson wanted to convey his gratitude to the Bulldog Nation and wished them the best of luck.  He will take over at Mabank in two weeks.
Where does Zack Hudson stack up in Bulldog Coaching History?
Playoff wins (first) 
Zack Hudson (5)
Jim Fryar (4)
Wins (fourth)
Norman Dickey, 51
Jim Fryar, 41
Davey DuBose, 34
Zack Hudson, 30