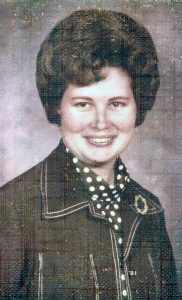 A graveside service for Carol Lee Webb Crites, 73, of Denison, who passed away on Tuesday, October 30, 2018, will be held on Saturday, November 3, 2018 at 2:00 PM at Friendship Cemetery in Sherman. The family will greet friends prior to the service from 12:00 until 2:00 PM at Dannel Funeral Home in Sherman. Pastor Steve Rice from First Baptist Church in Sherman will officiate.
Carol was born in Bonham, Texas on May 18, 1945 to Jack and Merl Turner. She was raised in Sherman and attended Sherman Schools, graduating from Sherman High in 1963. She was a member of East Sherman Baptist Church. She met and married Von Roy Webb and they lived in Sherman until his passing in 1991. She met and married Bob Crites on October 4, 1997 and lived many places including Sherman, Tucson, and Roy, Utah, while Bob was employed by TI/Ratheon. Bob and Carol were very active in the Masonic Lodge and the Order of the Eastern Star in every place they lived. Carol was past president of the Social Order of the Beauceant in Denison, and a past member of the Carpenters Chapter Order of the Eastern Star #183, among several other lodges. She was passionate about her family and she loved "old movies". Her 6 grandkids were her "little angels". She will be greatly missed by all who knew her.
Carol was preceded in death by her parents, her husbands, brother, Bill Turner, son in law, Casey McClain, and granddaughter Elizabeth McClain. She is survived by 4 children: Becky McClain, Richard Crites and wife Carol, Jon Crites and wife Valerie, and Steven Crites and wife Jennifer; 5 grandchildren: Matthew Fortney, Alex Fortney and wife Cynthia, Caleb McClain, Charles Crites, and Timothy Crites; sister in law Billie Turner, brother Larry Turner and wife Sharon, sister Nancy Turner.
You may sign the online guestbook at www.Dannelfuneralhome.com.