ame>
Game 747 in season 74 for the Howe Bulldogs.  Howe has an overall record of 381-341-24.
This is the second ever match up between Muenster and Howe.  The Bulldogs won a year ago, 37-31, which was the Hornets only regular season loss. Muenster lost to Munday, 40-34 in the third round of the Class 2A playoffs.
The 2017 Hornets are currently ranked #1 in Class 2A, Division II.  They have a perfect 2-0 record and have scored 100 points in their first two games and allowed 14.  (Valley View, 58-14 and at Pilot Point, 42-0).
Muenster Head Coach Brady Carney has a record of 79-14 since taking the Muenster job in 2010.
2010:  12-1
2011:  12-2
2012:  9-4
2013:  12-1
2014:  10-2
2015:  13-2
2016:  11-2
Howe is 0-2 for the first time since 2005.  The Bulldogs are coming off a 37-14 loss to Bowie in which they fumbled and flagged their way from hopes of victory.  Howe has scored 26 points on the season and has allowed 87.  Head Coach Zack Hudson is now 29-21 in Howe.
It is the first time since 2014 that the 'Dogs have gone consecutive games under 200 yards rushing (vs. Gunter 165 yards, vs. Pottsboro 189 yards).  It is the first time since the beginning of 2015 and the opening game of 2016 that Howe has had back-to-back games of under 300 yards (West Rusk, 295 yards; Gunter 221 yards).
Howe's freshman quarterback Cirby Coheley has attempted 31 passes in the first two games which are two less than the entire 13-game season a year ago.  His 11 completions are only three behind the 2016 season total.  Howe threw one touchdown pass in 2016; Coheley threw his first of the season on the first drive versus Bowie.
Howe Bulldogs Stats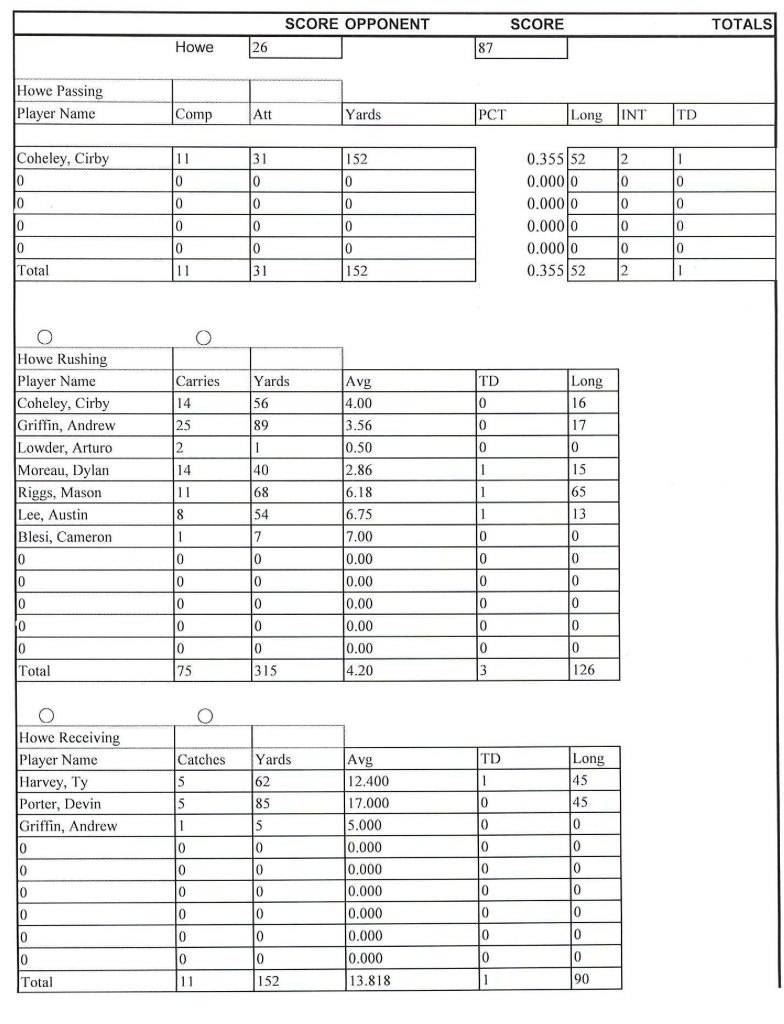 On this date in Howe Bulldogs history
Howe is 1-8 on games played on Sept. 15
1960 – lost to McKinney B, 26-6
1961 – lost to McKinney B, 28-12
1967 – lost to Callisburg, 16-8
1972 – lost to Princeton, 17-0
1978 – lost to Aubrey, 25-0
1989 – lost to Dallas Christian, 49-21
1995 – beat Prosper, 7-0
2000 – lost to Denton Liberty Christian, 21-13
2006 – lost to Durant, OK, 38-0