Live broadcast will be played in the box below.  Radio feed will be available inside the stadium on 99.9 FM.
Game number 759 for the Howe Bulldogs.  Howe has a record of 385-349-24 since the first game on Sept. 20, 1935.
Howe stats
Howe has accumulated 1,022 yards (255.50 rushing yards per game and 5.11 yards per carry). The Dogs have completed 6 of 14 passes for 54 yards.  Howe's total yardage through four games is 1076 on 214 snaps which equates to 4.78 yards per snap.
Home winning streak
Howe has won three straight at home going back to the final game of 2017.  The longest winning streak at Bulldog Stadium is 11 games (Oct. 6, 1989 – Sept. 6, 1991).
On this day in Bulldog History (1-6)
1973 lost to Allen, 26-20
1979 lost at Wolfe City, 48-6
1984 lost to Valley View, 21-20
1990 lost at Pilot Point, 24-0
2001 beat Bells 20-10
2007 lost at Gunter, 55-0
2012 lost at Pottsboro, 48-15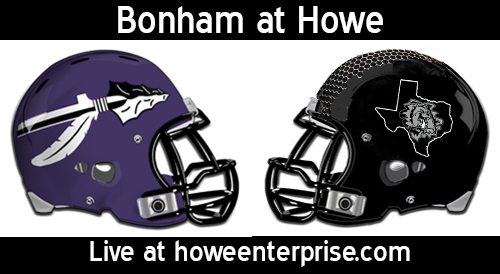 Howe vs. Bonham
Howe and Bonham's history does not go back very far.  The first game took place in the 2014 season opener at Bonham where Howe won, 14-0.  The following season, Howe won 41-14 at home.  The two teams did not play in the 2016 or 2017 season.  Howe is 2-0 overall vs. Bonham.
District 5-3A Standings
| School Name | W-L | Pct. | PF | PA | Strk |
| --- | --- | --- | --- | --- | --- |
| Howe | 3-1 | 0.750 | 99 | 86 | 1 L |
| Bonham | 3-1 | 0.750 | 178 | 103 | 3 W |
| Rains | 2-1 | 0.667 | 47 | 52 | 1 W |
| Pottsboro | 2-2 | 0.500 | 95 | 87 | 1 W |
| Lone Oak | 1-2 | 0.333 | 96 | 119 | 2 L |
| Van Alstyne | 1-3 | 0.250 | 98 | 134 | 1 W |
| Commerce | 0-3 | 0.000 | 34 | 111 | 2 L |